Have you ever seen a hydraulic press squash something on Youtube? It's honestly fascinating how powerful these machines are. However, although YouTube may portray these machines as a "one size fits all"-type of deal, they're absolutely not. There are many varieties of these machines, all fit to different manufacturing processes. Whether you're bending metal, plastics or something else, you've got to know what type and the power of the machine you're using. Given the fact that there are many different metal types and thicknesses, the machine that you buy will make a difference in the efficiency of your production.
Types of Presses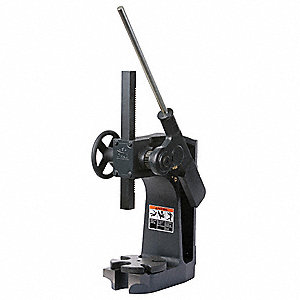 Arbor presses
These are used for bearings removal, assembly, seating stamping and repair of production jobs. Typically, these machines are used for smaller jobs such as riveting, installing, configuring and removing bearings. Most smaller press fit work can be done using an arbor press.
C-frame presses
Streamlined and sturdy, these presses use a small amount of space. As a rule they have a single application on an operations floor, but can be used for punching, blanking, coining, straightening, forming, bending and other assembly work.
Air-Operated Hydraulic Presses
Similar to pneumatic presses, these air-powered presses use compressed air to push a hydraulic fluid, creating pressure. Tasks include riveting, punching and bending.
Double Acting Hydraulic Presses
Offering more lifting power than a single working head, the double acting press is great for larger applications that require a fixture or die to be mounted. Companies will often buy a single acting press for a heavy die, only to run into the issue of not having enough power and leaving an inconsistent return.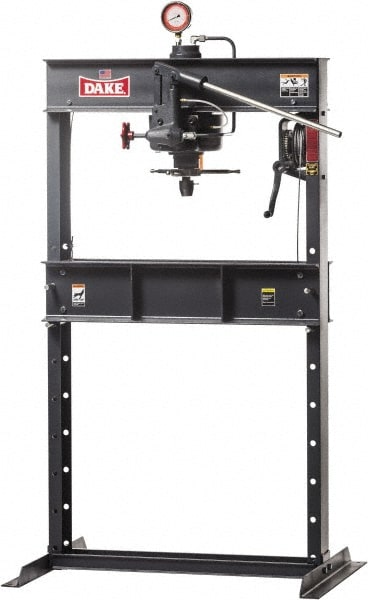 Manual Hydraulic Presses
Without needing power and not occupying enough space, this press comes in handy for those constricted in their operations. It is the best way to get a legitimate return while utilizing a lower cost and powerless alternative.
Movable Frame Hydraulic Presses
Straightening shafts of metal at long lengths can be tedious when done on an H-Frame press. However, with a moveable frame hydraulic press, the work head will move itself to the part, making it easy to find the area you need to contract. With this press, work gets done with ease and safely.
Movable Table Hydraulic Presses
These presses are useful for larger materials, but they provide more flexibility. The movable table allows heavy work pieces to be loaded overhead, where it can be rolled under the work head for easier use than with an H-frame press.
About Dake:
Dake has been around since 1887. As a golden name in manufacturing, Dake prides itself in reliability of their tools and their durability. Their products span well beyond hydraulic and arbor presses to include; bandsaws, cold saws, drill presses, laboratory presses, and much more. Dake's empowers the next generation of metalworkers with quality tools that help make their dreams a reality. Check out more from Dake here.